RTSB GmbH Rail Transportation Service Broker Sp. z o.o. branch in Poland joined a project of the Association for the development of Łobaczew Duży and the surrounding area by funding a giant heart shaped container for collecting plastic bottle caps, located at the company's headquarters in Małaszewicze.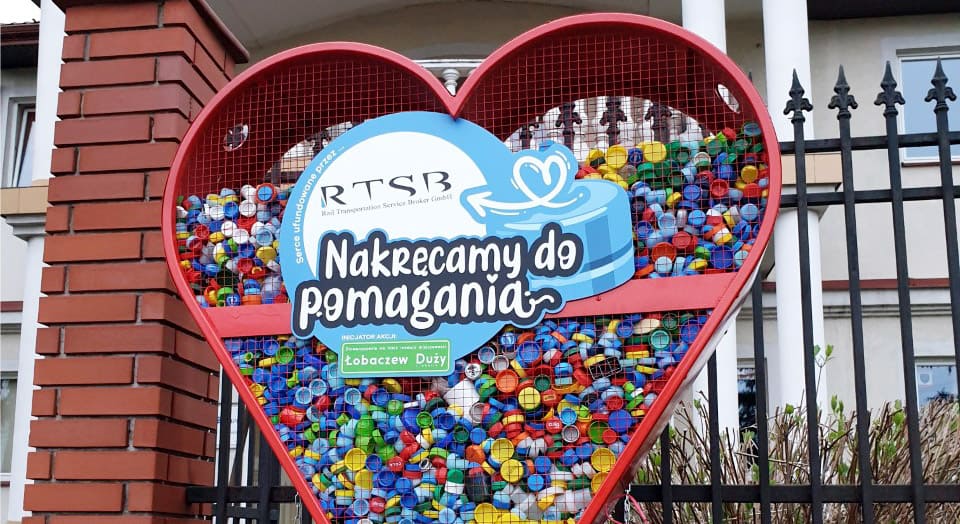 The aim of the project is to help people in need, raise the environmental awareness of the inhabitants and reduce the costs of waste collection. The action consists in placing heart-shaped metal baskets in three locations in the city and the commune of Terespol, into which local residents can throw plastic caps, which are then bought by recycling companies and processed. It is the perfect material for recycling and a way to help a charity. After they are processed into a secondary raw material – plastic regranulate, for example, pots, buckets or shovels are created. Small plastic, inconspicuous caps become a great help for children in need thanks to the involvement of society.
The caps themselves, instead of ending up in the garbage,
can receive a second life.
The action of buying hearts and collecting caps, apart from the charity goal, makes the local community aware of what recycling really is and how it can be used to achieve benefits by helping others.
The idea of creating a heart was born in our heads a long time ago. During the pandemic, it matured with doubled strength, because many schools and kindergartens were closed, and in our area these were the only places where plastic caps could be returned. The purchase of one of the hearts was possible thanks to the support of RTSB and it was also a great impulse to successfully implement our project.