The Belt and Road Initiative is an ambitious infrastructure program instigated by the Chinese government in 2013, aiming at boosting connectivity and commerce across Eurasian trade corridors. Proclaimed long term goal is the cooperation among participating countries in the areas of policy, infrastructure, trade, finance and interpersonal ties. Besides massive investments in new roads, rail lines, ports and pipelines along the land-based Economic Belt as well as the sea-based Maritime Road, the initiative includes subsidies on shipping products from China to foreign markets with a planned investment of as much as USD 1 Trillion by 2027.

The Belt and Road Initiative – Trans-Eurasian Railway Routes
为了响应"一带一路"倡议,欧洲联盟已明确意识到,发展亚洲与欧洲之间的互通性以加强双方的联系。:
Konnektivitätsstrategie
With the "Konnektivitätsstrategie" the EU promotes connectivity in the areas of transport, IT (digital), energy and civil society. The declared goals are the creation of free, undistorted competition ("level playing field"), transparency, sustainability (emission reduction, market efficiency, financing) and the acceptance of internationally recognized rules.
TEN-T政策
The goal of the EU's TEN-T policy is to build up a comprehensive multimodal transport network that should give all regions better access to the European and global market. The EU not only pursues the goal of achieving harmonized infrastructure planning in the member states, but is also interested in a high level of connectivity with structures in the neighboring countries, particularly with a view to the Eurasian land bridge, which could intensify trade between Europe and Asia through the expansion of rail networks
西巴尔干计划
2017年7月,西巴尔干国家元首和政府首脑商定通过一项多年期欧盟发展西巴尔干地区经济区的行动计划,这是又一个充满希望的举措:致力于实施该行动,将不仅进一步加强该地区内部以及该地区与欧盟之间的贸易,投资和流动性,而且还将有助于欧洲和全球价值链中市场的整合。
2015: 46 trains

2016: 531 trains

2017: 1806 trains

2018: 2785 trains

2019: 2968 trains
2015: 33 trains

2016: 353 trains

2017: 1127 trains

2018: 1624 trains

2019: 1758 trains
2015: 13 trains

2016: 178 trains

2017: 679 trains

2018: 1161 trains

2019: 1210 trains
While the Belt and Road Initiative is proclaimed to be a win-win agreement for all states involved, there are several challenges to overcome in order to reach overall long term sustainability on all ends of the program, especially regarding competitive unsubsidized shipping rates for rail transportation compared to other shipping modes.
We are proud to work closely with the Chinese State Railway and platform companies and have strong ties to state railways along the Eurasian Corridor. Our solid network of partners paired with our extensive experience in rail transportation allows us to optimize existing transportation chains aiming at a higher cost efficiency in shipping processes in order to lower overall shipping costs and transit times.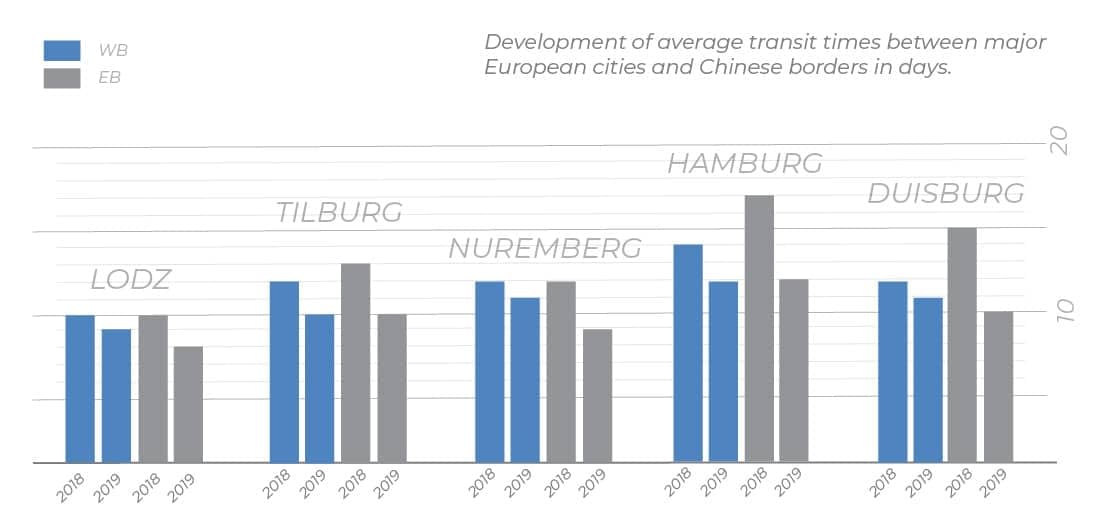 与我们的合作伙伴一起,我们在过去一年中最多可将主线段的运输时间减少5天。
In cooperation with Belintertrans we operate trains along the Mongolian and Southern route to/ from Europe and China via Ulaanbataar and Khorgos/ Dostyk.
In the course of an increasing demand for rail transportation we are proud to offer train connections on alternative routes, crossing borders in the Grodno region (Belarus) and Kaliningrad (Russia).
It has always been our main goal to link the European hinterland to the main corridors to give those regions better access to rail transportation to and from the CIS countries and China. With our hub-strategy we connect cities like Hamburg, Duisburg, Tilburg, Milan, Madrid, Budapest, Wien, etc. via public trains to the main hub in Malascewicze, opening up the Eurasian rail corridor to those smaller hinterland hubs.
2014
First "Silk Train" between Poti and Baku operated
The project ?SILK TRAIN POTI-BAKU? is resumed in July 2014 to create a cost effective and fast rail route, connecting Europe and China.
Our subsidiary Intermodtrans GmbH becomes official operator on this relation and runs the first block train between Poti and Baku.
RTSB operates the first intermodal container transport from Chengdu to Istanbul along the new silk route. Containers are railed from Chengdu via Dostyk to Aktau, then shipped over the Caspian Sea to Baku to be loaded on the Silk Train to Poti, traversing three Central Asian countries – 途经三个, 中亚国家——哈萨克斯坦、 阿塞拜疆和格鲁吉亚。在波蒂,这批货物在最后一英里用集装箱卡车运到伊斯坦布尔。
RTSB starts using alternative border crossings to relieve the main corridor Brest – Terespol. The crossings Bruzgi – Kuznica between Belarus and Poland and Mamonovo – Brzniewo between Kaliningrad and Poland prove to be successful alternatives matching transit times on the main corridor.
加里宁格勒提供通往欧洲和斯堪的纳维亚港口的短海通道,也使其成为有吸引力的多式联运解决方案。
前往诺伊斯的首列定期快线普通过加里宁格勒,仅需10天的运输时间。
Siemianówka – Svisloch is used as another alternative border crossing between Belarus and Poland for the first time on the eastbound relation Bremerhaven – Chengdu.
新目的地:
| | |
| --- | --- |
| 弗罗茨瓦夫 | 波兹南 |
| 卢森堡 | 诺伊斯 |
| 佐迪诺 | 莱索西伯利亚 |
| 克拉斯诺亚尔斯克 | 戈林 |
| 托博尔斯克 | 不来梅港 |
| 米兰 | 布达佩斯 |
新目的地:
| | |
| --- | --- |
| Liège | 路德维希港 |
| 斯韦特洛戈尔斯克 | 卡斯托洛维奇 |
| Frenkendorf | 维尔纽斯 |
| Niederglatt | |
RTSB has been working continuously on promoting the Belt and Road program by creating awareness and advertising the product 'railway transportation' in general to customers and partners in Germany and Europe wide. Due to a lack of knowledge and trust in the product, many potential customers still don't see rail freight as a favorable option to sea and air freight.
In order to achieve sustainability of the initiative it is vital to avoid empty returns of container trains by not only importing products from China, but also increasing the export of European products to Central and South East Asia by rail. Ever since our first involvement in the BRI we have been working with transportation companies and state railways, closely, communicating the benefits of rail freight, pushing to reach capacity on round trips and optimizing overall transportation processes resulting in a higher cost efficiency and thus getting closer to becoming independent of Chinese subsidies.
最后,我们独家的IT应用程序myTransoffice为运输公司提供了经济带的诱人功能,例如DMS(文件管理系统)和Track&Trace,从而使他们对货运的每个细节都有全面的了解,并简化了边境以及多式联运的流程 。MyTransoffice旨在建立跨地理区域,语言,货币和业务部门的信息桥。合肥和成都的平台公司以及布列斯特的海关业务部门正在与我们在运输链中的系统链接流程和简化程序进行合作。