DIE BELT AND ROAD INITIATIVE
Die Belt and Road Initiative ist ein ehrgeiziges Infrastrukturprogramm, das 2013 von der chinesischen Regierung ins Leben gerufen wurde und darauf abzielt, die Konnektivität und den Handel entlang der eurasischen Handelskorridore zu verbessern. Das proklamierte langfristige Ziel ist die Zusammenarbeit zwischen den teilnehmenden Ländern in den Bereichen Politik, Infrastruktur, Handel, Finanzen und zwischenmenschliche Beziehungen. Neben massiven Investitionen in neue Straßen, Schienen, Häfen und Pipelines entlang des landgestützten Wirtschaftsgürtels sowie der maritimen Seestraße umfasst die Initiative Subventionen für den Versand von Produkten aus China in ausländische Märkte mit einer geplanten Investitionssumme von bis zu 1 Billion USD bis 2027.

The Belt and Road Initiative – Trans-Eurasian Railway Routes
Als Reaktion auf die BRI hat die Europäische Union eigene Konzepte zur Entwicklung der Konnektivität zwischen Asien und Europa entwickelt::
Konnektivitätsstrategie
With the "Konnektivitätsstrategie" the EU promotes connectivity in the areas of transport, IT (digital), energy and civil society. The declared goals are the creation of free, undistorted competition ("level playing field"), transparency, sustainability (emission reduction, market efficiency, financing) and the acceptance of internationally recognized rules.
TEN-T Politik
The goal of the EU's TEN-T policy is to build up a comprehensive multimodal transport network that should give all regions better access to the European and global market. The EU not only pursues the goal of achieving harmonized infrastructure planning in the member states, but is also interested in a high level of connectivity with structures in the neighboring countries, particularly with a view to the Eurasian land bridge, which could intensify trade between Europe and Asia through the expansion of rail networks
West-Balken Plan
Die Verabschiedung eines mehrjährigen EU-Aktionsplans zur Entwicklung des regionalen Wirtschaftsraums des westlichen Balkans, auf den sich die Staats- und Regierungschefs im Juli 2017 geeinigt haben, ist ein weiterer vielversprechender Schritt: die Umsetzung der Aktion Der Plan wird nicht nur dazu dienen, Handel, Investitionen und Mobilität in der Region sowie zwischen der Region und der EU weiter zu intensivieren, sondern auch zur Integration der Märkte in europäische und weltweite Wertschöpfungsketten beizutragen.
2015: 46 Züge

2016: 531 Züge

2017: 1806 Züge

2018: 2785 Züge

2019: 2968 Züge
2015: 33 Züge

2016: 353 Züge

2017: 1127 Züge

2018: 1624 Züge

2019: 1758 Züge
2015: 13 Züge

2016: 178 Züge

2017: 679 Züge

2018: 1161 Züge

2019: 1210 Züge
ZUSAMMENARBEIT UND BEITRAG
Während die Belt and Road-Initiative als Win-Win-Abkommen für alle beteiligten Staaten proklamiert wird, müssen einige Herausforderungen bewältigt werden, um eine langfristige Nachhaltigkeit an allen Enden des Programms zu erreichen, insbesondere im Hinblick auf wettbewerbsfähige, nicht subventionierte Frachtraten für den Schienenverkehr.
Wir sind stolz darauf, eng mit der chinesischen Staatsbahn- und Terminals zusammenzuarbeiten und pflegen engen Kontakt mit den beteiligten Staatsbahnen entlang des Eurasischen Korridors. Unser solides Partnernetzwerk, zusammen mit unserer umfassenden Erfahrung im Schienenverkehr, ermöglicht es uns, bestehende Transportketten zu optimieren, um eine höhere Kosteneffizienz in den Versandprozessen zu erreichen und die Gesamtkosten und Transitzeiten zu senken.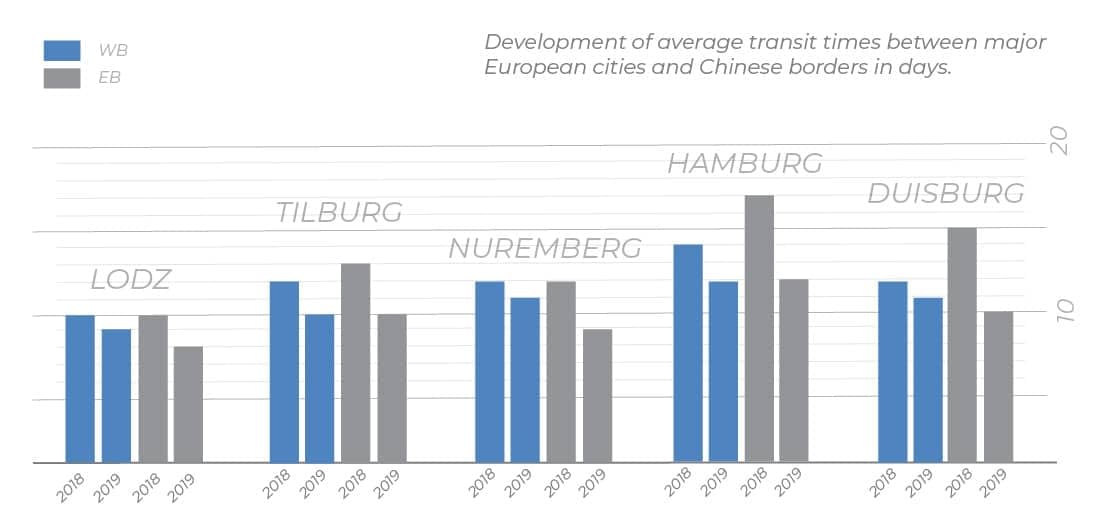 Zusammen mit unseren Partnern konnten wir die Transitzeiten auf unseren Hauptstrecken im vergangenen Jahr um bis zu 5 Tage senken.
In cooperation with Belintertrans we operate trains along the Mongolian and Southern route to/ from Europe and China via Ulaanbataar and Khorgos/ Dostyk.
In the course of an increasing demand for rail transportation we are proud to offer train connections on alternative routes, crossing borders in the Grodno region (Belarus) and Kaliningrad (Russia).
It has always been our main goal to link the European hinterland to the main corridors to give those regions better access to rail transportation to and from the CIS countries and China. With our hub-strategy we connect cities like Hamburg, Duisburg, Tilburg, Milan, Madrid, Budapest, Wien, etc. via public trains to the main hub in Malascewicze, opening up the Eurasian rail corridor to those smaller hinterland hubs.
2014
First "Silk Train" between Poti and Baku operated
The project ?SILK TRAIN POTI-BAKU? is resumed in July 2014 to create a cost effective and fast rail route, connecting Europe and China.
Our subsidiary Intermodtrans GmbH becomes official operator on this relation and runs the first block train between Poti and Baku.
2015
Erster intermodaler Containertransport von China in die Türkei
RTSB operates the first intermodal container transport from Chengdu to Istanbul along the new silk route. Containers are railed from Chengdu via Dostyk to Aktau, then shipped over the Caspian Sea to Baku to be loaded on the Silk Train to Poti, traversing three Central Asian countries – Kazakhstan, Azerbaijan, and Georgia. In Poti the shipment goes on the last mile to Istanbul on container trucks.
2018
Erste Züge fahren über alternative Grenzübergänge
RTSB starts using alternative border crossings to relieve the main corridor Brest – Terespol. The crossings Bruzgi – Kuznica between Belarus and Poland and Mamonovo – Brzniewo between Kaliningrad and Poland prove to be successful alternatives matching transit times on the main corridor.
Kaliningrad bietet Zugang zum kurzen Meer für Verbindungen zu europäischen und skandinavischen Häfen, was es auch zu einer attraktiven multimodalen Lösung macht.
2019
Regulärer Expresszug über Kaliningrad eingeführt
The first regular express trains to Neuss run through Kaliningrad with a transit time of only 10 days.
Siemianówka – Svisloch is used as another alternative border crossing between Belarus and Poland for the first time on the eastbound relation Bremerhaven – Chengdu.
Neue Ziele:
| | |
| --- | --- |
| Wroclaw | Poznan |
| Luxemburg | Neuss |
| Zodino | Lesosibirsk |
| Krasnojarsk | Goryn |
| Tobolsk | Bremerhaven |
| Milan | Budapest |
2020
Neue Ziele im europäischen Hinterland
Neue Ziele:
| | |
| --- | --- |
| Liège | Ludwigshafen |
| Svetlogorsk | Castolovice |
| Frenkendorf | Vilnius |
| Niederglatt | |
Besuchen Sie und auf einer unserer internationalen Messen:
RTSB has been working continuously on promoting the Belt and Road program by creating awareness and advertising the product 'railway transportation' in general to customers and partners in Germany and Europe wide. Due to a lack of knowledge and trust in the product, many potential customers still don't see rail freight as a favorable option to sea and air freight.
In order to achieve sustainability of the initiative it is vital to avoid empty returns of container trains by not only importing products from China, but also increasing the export of European products to Central and South East Asia by rail. Ever since our first involvement in the BRI we have been working with transportation companies and state railways, closely, communicating the benefits of rail freight, pushing to reach capacity on round trips and optimizing overall transportation processes resulting in a higher cost efficiency and thus getting closer to becoming independent of Chinese subsidies.
Schließlich bietet unsere exklusive IT-Anwendung myTransoffice Transportunternehmen entlang des des eurasischen Korridors attraktive Funktionen wie DMS (Document Management System) und Track & Trace, die ihnen einen umfassenden Einblick in jedes Detail ihrer Transporte gewähren und die Prozesse an Grenzen sowie während des intermodalen Umschlags vereinfachen. M yTransoffice wurde entwickelt, um eine Informationsbrücke zwischen geografischen Regionen, Sprachen, Währungen und Geschäftsbereichen zu schlagen.
Plattformunternehmen in Hefei und Chengdu sowie die Zollabteilungen in Brest arbeiten mit unserem System, das Prozesse und Verfahren innerhalb von Transportketten verknüpft und vereinfacht. span> span>