The joint venture between RTSB GmbH, Belintertrans Germany and Ecco Rail is a licensed railway carrier with own wagons, locomotives and railroad lines, providing a strategic solution for joint intermodal and conventional freight transportation to China and Europe via Belarus and Poland.

OUR WIDE RAGE OF SERVICES AS A CARRIER
In cooperation with ERC, we are proud to offer railway carrier services in addition to our comprehensive line of services as a freight forwarder. ERC is a railway undertaker on Polish territory and is fully licensed in Germany.

Containers
A wide range of multimodal transport options.

Automotive
Transport solutions for new and disused cars.
Industrial Products
Transportation of rails, household items, pipes, steel, iron, etc.

Agricultural Products
Logistics solutions for all kinds of crop as well as derived products.

Coal & Stone
Delivery to ports, power stations or construction sites.
Special Services
Solutions for oversized products, radioactive waste & military equipment.

Wood
Transportation of woods in all forms to sawmills, power stations and ports.

Mineral Oil
Logistic solutions for mineral oil products in tank containers.

Chemicals
Transportation of petrochemicals, fertilizers and components.
Our goal is to offer the fastest and most advantageous way of transporting goods over the border between Belarus and Poland. Our value added services, provided on the border-crossing Brest-Terespol, ensure a fast gauge change with limited waiting times as well as smooth customs procedures.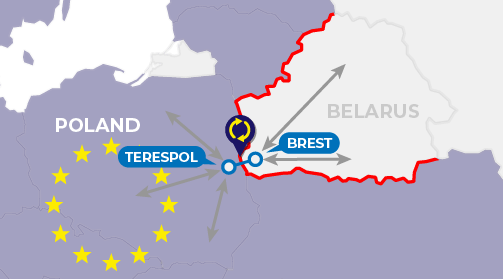 Improved transit time through faster gauge change.
Attractive pricing thanks to higher cost efficiency.

Improved planning and control over border processes.
SALES@RTSB.DE     +49 6172 5908 0