First export block train from Turkey to China.
December 12, 2020
Today, our first export block train will be sent off from Turkey to China. It will leave from Istanbuls European side, pass through the Marmaray tunnel, cross two seas and five countries to finally arrive in Xi'an. The 42 container block train carries appliances and is planned to arrive on December 16th with a total transit time of only 12days.
#newsilkroad #istanbul #xian #turkey #china #multimodal #RTSB #container #freightforwarding #bri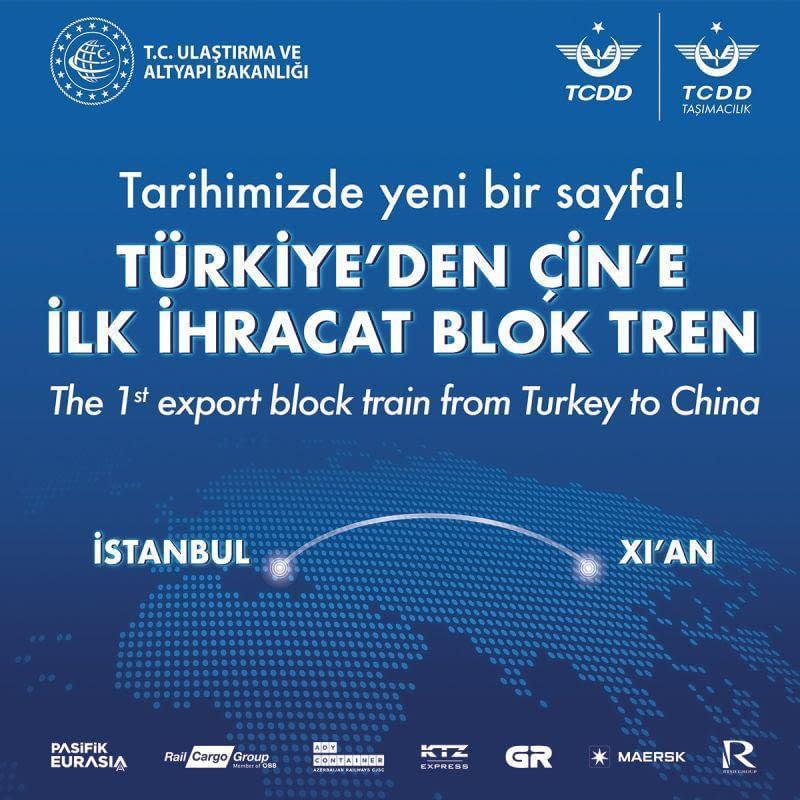 Multimodal service between China and Hamburg in cooperation with Belintertrans and UTLC.
November 13, 2020
Our multimodal service combines a rail link between China and Kaliningrad with a sea link between the Port of Kaliningrad and the Port of Hamburg. We opened the connection with one vessel in late August and, due to a quickly growing demand, now run two vessels with double capacity. With a total transit time of only 12-14 days eastbound as well as westbound, this new route makes a great alternative to the traditional intermodal route.
#newsilkroad #kaliningrad #hamburg #china #multimodal #RTSB #container#freightforwarding #bri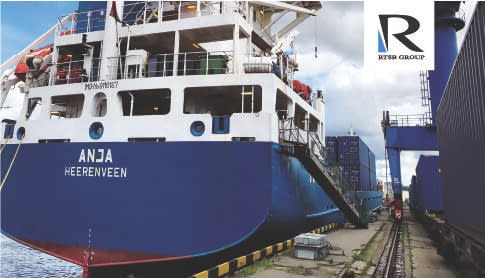 International Supply Chain Development Cooperation Award 2020
November 10, 2020
We received the "Chengdu-Eurasia" International
Supply Chain Development Cooperation Award" by CIPI
at The 3rd "Chengdu-Eurasia Global Partners Conference.
Thank you!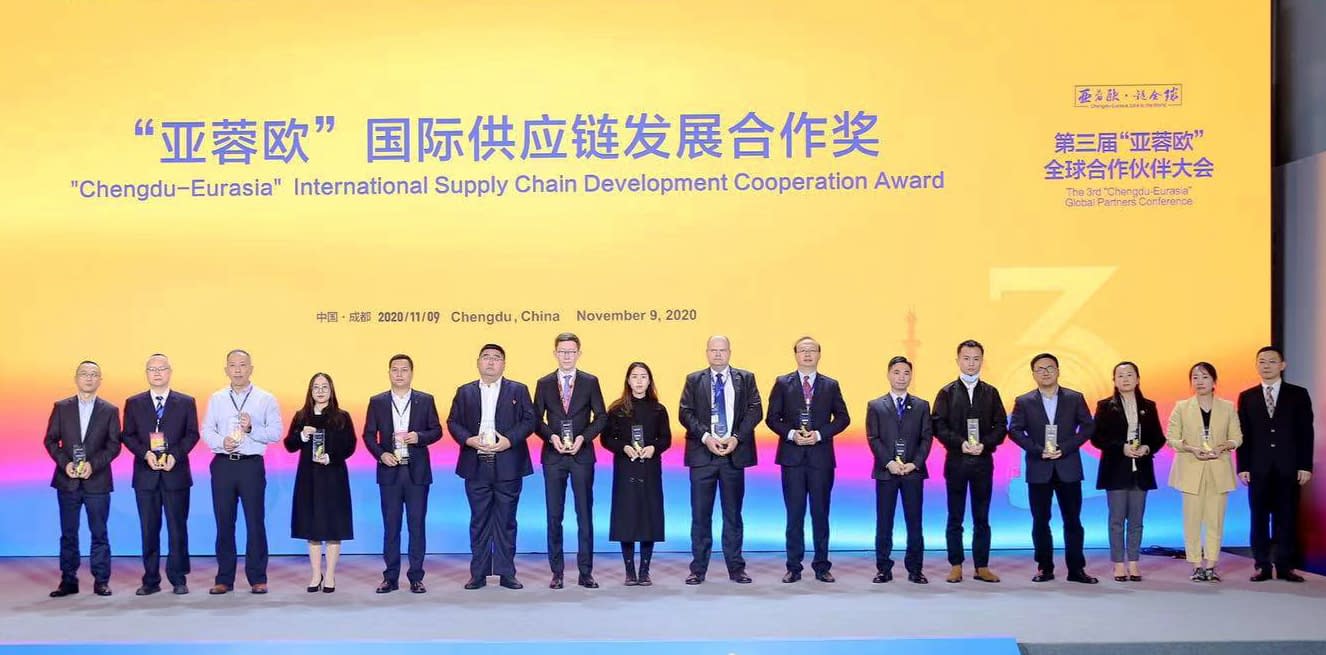 RTSB chosen 'Best Industry Service Provider' at Yiwu Forum .
October 30, 2020
RTSB was honored with the '2020 Best Industry Service Provider' award by the organizers of the Landbridge Logistics Alliance forum in Yiwu, this year.
We are proud to be part of the OBOR initative and strive to keep our service level at the very top. Thank you!
Happy National Day
October 1, 2020
We would like to wish everyone a happy National Day and a happy Mid Autumn Festival.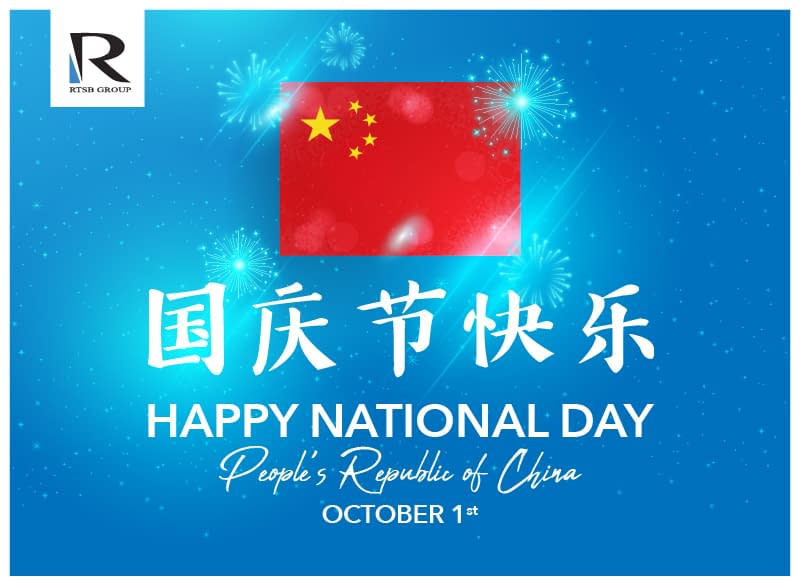 "The 5th Sea-Rail Transport & Cross-Border Transportation Forum".
Shenzhen, China
September 23- 25, 2020
RTSB took part in the 5th Sea-Rail Transport & Cross-Border Transportation Forum in Shenzhen. The exhibition was a great success and interesting contacts were made. Our very own Ekaterina Ershova held an an interesting speech about new routes and gateways along the Eurasian Corridor and our newes products: the multimodal connection between Chongqing and Hamburg via Kaliningrad and our intermodal connection to Slawkow, via Izov (Ukraine).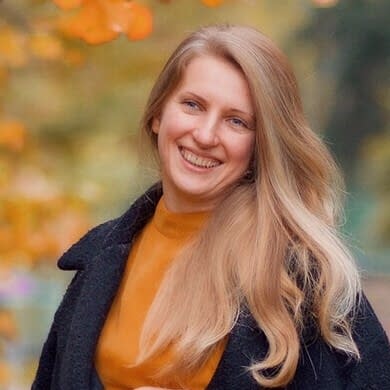 Interview with Kateryna Negrieieva
Current sitaution in Brest, Kaliningrad as an alternative and new gateways.
September  18, 2020
Interview with Wolfgang Rupf
Alternative gateways and new routes along the Eurasian Corridor.
August 11, 2020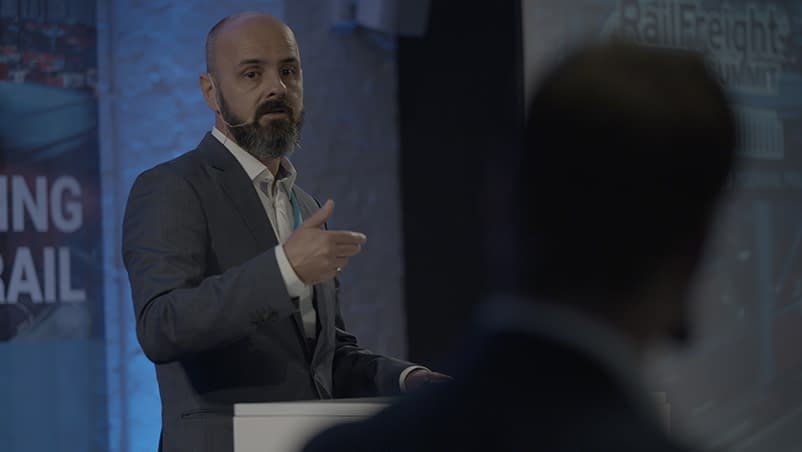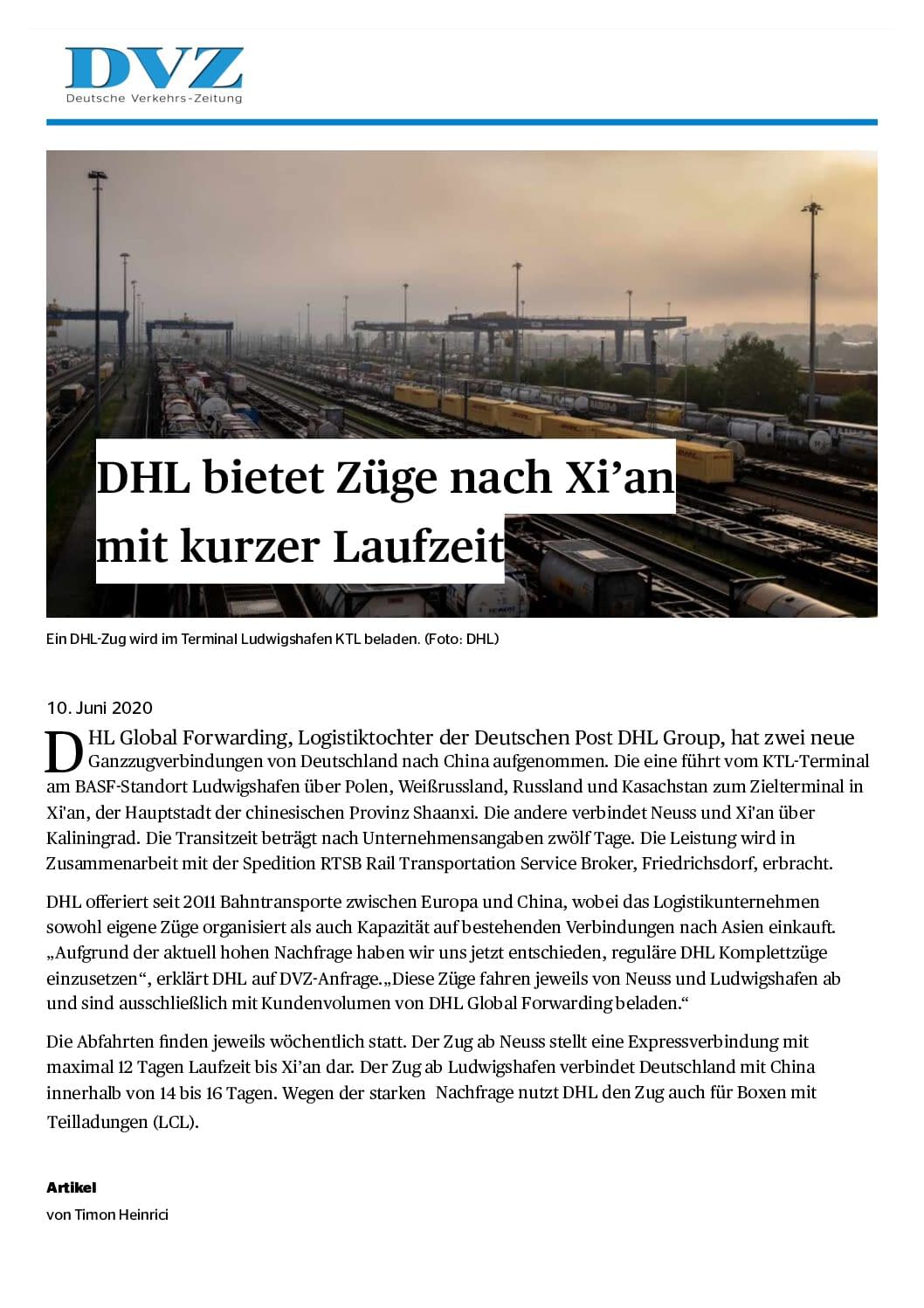 Interview with Artur Ballardt
Digitalisierung und Corona.
May 29, 2020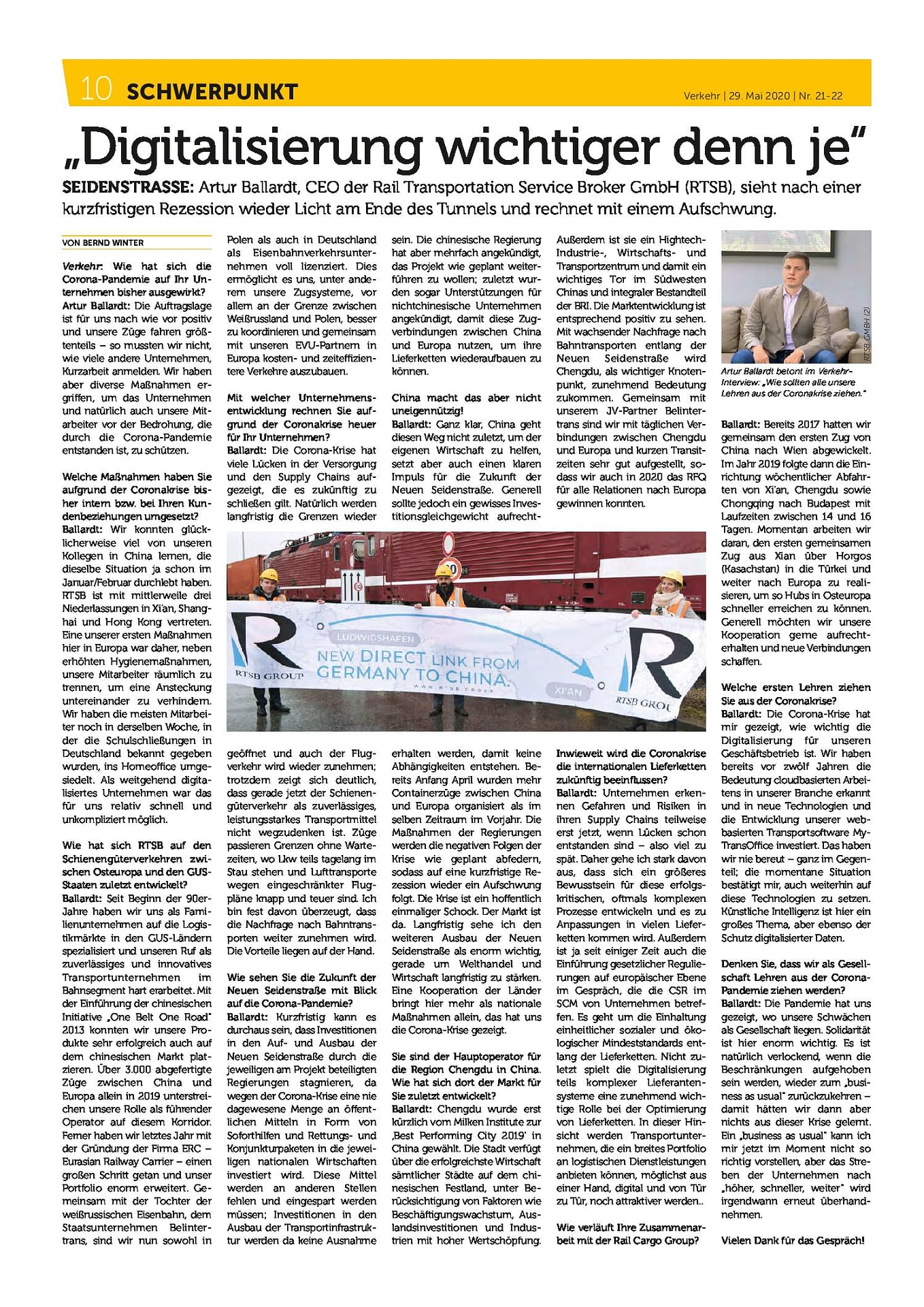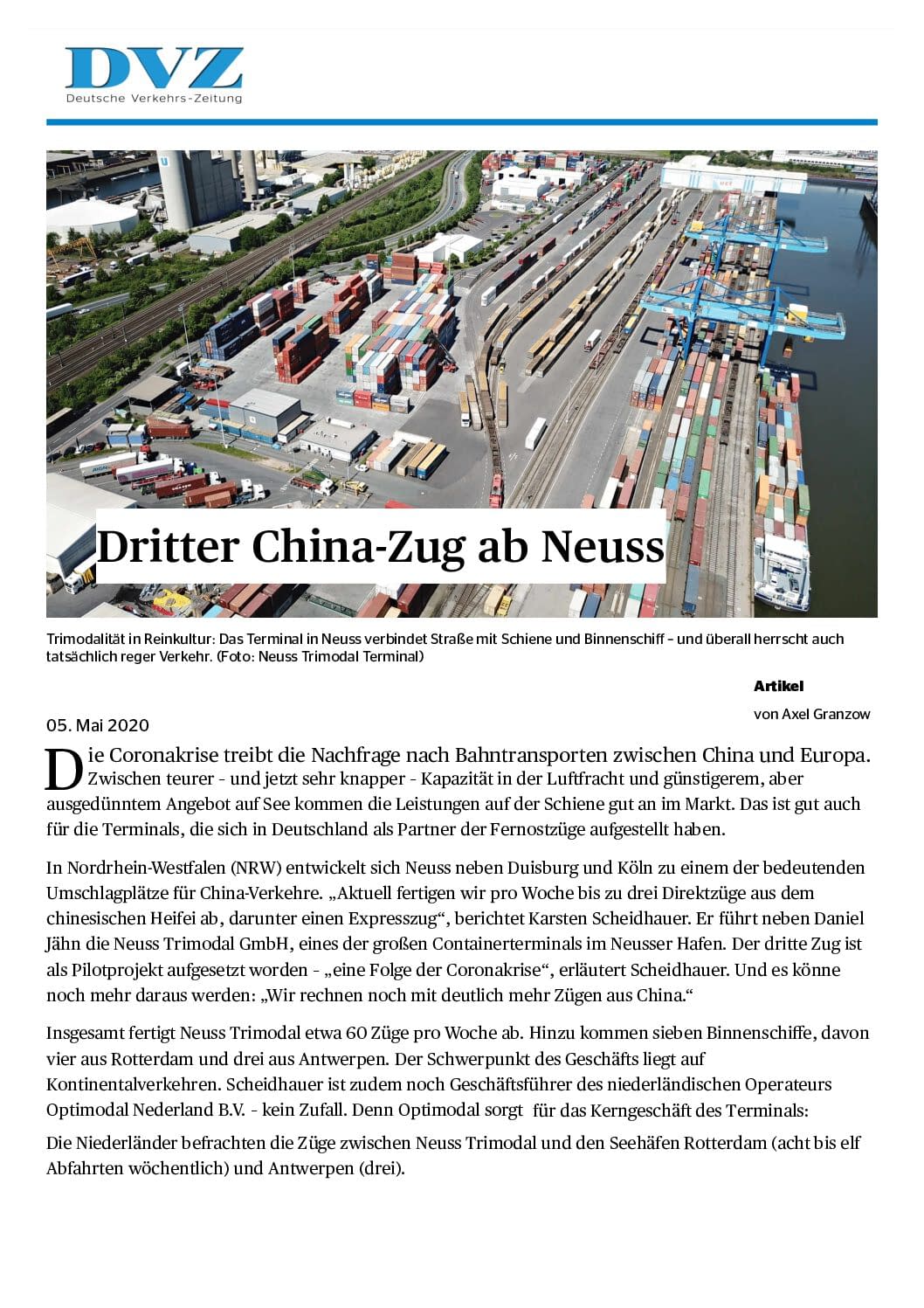 RTSB introduces new direct block train connection between Germany and China.
Friedrichsdorf, Germany
April 9, 2020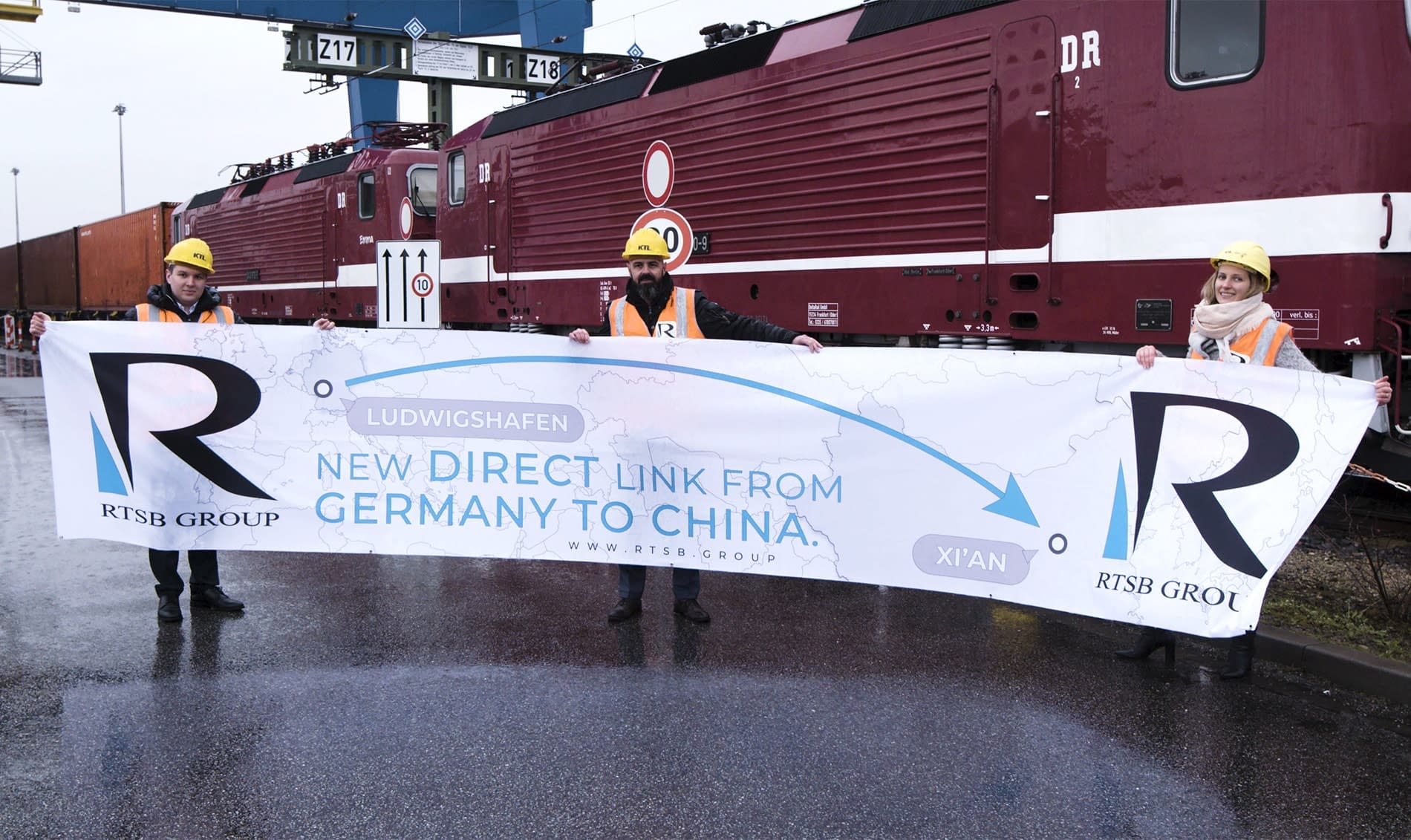 We are proud to announce the launch of a new non-stop block train connection between Ludwigshafen (Germany) and the city of Xi'an in central China in cooperation with our long-term customer and valued partner Dachser.
The first train left Ludwigshafen on February 13th and took only 14 days to arrive at Xi´an International Inland Port. It made its way from Germany via Poland, Belarus, Russia and Kazakhstan to China along the "New Silk Road", carrying 42x 40ft high cube containers.
After this successful test run the new connection will be established as a monthly return service in April, and is planned to be extended to run weekly, soon.
The new route extends our existing intermodal network with hubs like Duisburg and Hamburg and provides additional possibilities to reach hinterland areas even faster. 
Additionally, RTSB offers an efficient online customs and tracking system, ensuring reliable transportation with no additional waiting times at respective border stations and providing extensive information about position and status of shipments online, at all times.
As a neutral, experienced and well-established railway operator we work with transportation companies, worldwide, fulfilling their transportation needs along the Eurasian corridor. The RTSB group operated over 3,000 block trains between China and Europe and moved a total of 422,500 TEU by rail in 2019.
First direct freight railway line between Switzerland and China.
Gams, Switzerland
April 9, 2020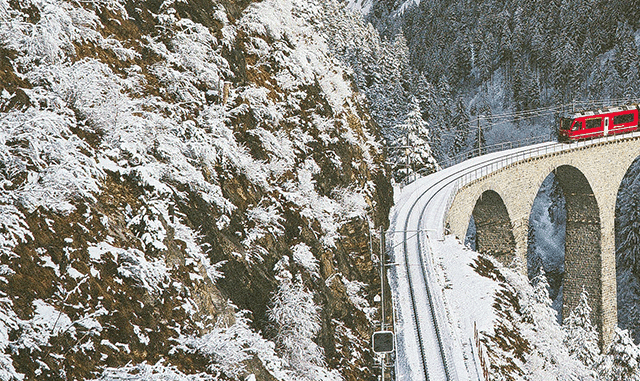 Iron Silk Road: Switzerland boosts rail links to China. 
As many factories in China have returned to normal operations after the recent COVID-19 outbreak, first signs of capacity shortages in both air and sea freight are starting to emerge. To address growing demand in challenging times, RTSB Schweiz AG and Schweizerzug AG have formed an alliance to offer a new rail freight service for maritime containers between Switzerland and China. The new connection started operating on April 1st and is set to be an efficient and cost-effective alternative for transportation companies looking to keep their supply chains flowing.
RTSB and Schweizerzug start by offering weekly departures in each direction. Their China service connects Frenkendorf near Basel and Niederglatt near Zurich with the two Chinese hubs Xian, which is centrally located, and Hefei, based on the east coast. Important industrial centres such as Shanghai, Hangzhou, Suzhou, Wenzhou, Taizhou, Ningbo, Nantong, Changzhou, Nanjing, Jining, Linyi and Qingdao are easily accessible via those hubs. Customers benefit from complete door-to-door connections to both China and Switzerland. Additionally, an efficient customs system ensures reliable transportation without additional waiting times at the respective border stations. But what might be most important in times like these: With a transit time of approximately 15 days to Xian and 18 days to Hefei, the new rail link slashes shipping time on the Rotterdam – Shanghai sea route in half, when compared to sea freight.
Political endorsement
A dedicated rail connection between Switzerland and China has not just been a hot topic for the logistics industry for a short while, political leaders have been pursuing this idea for some time, too. In April 2019, Switzerland's president signed a cooperation agreement with his Chinese counterpart to back China's Belt and Road Initiative. A great number of high-level delegations have been travelling back and forth between the two countries, aiming at establishing connections and educating Swiss companies in the many benefits of the project. The market's response so far has been very positive.
However, Wolfgang Rupf, Managing Director RTSB Schweiz, points out: "Due to the lack of cost-efficient alternatives so far, many Swiss shippers are used to ocean freight for cargo to and from China. Our new product offers a viable alternative and we're looking forward to catering to the market's mand. Of course, every new product launch requires some lead time, but we're confident to see volumes grow quickly."
Roman Mayer, CEO Schweizerzug, explains the timing of the product launch: "With our new rail link between China and Switzerland, we are providing the market a reliable alternative for urgent or valuable cargo. Due to the corona outbreak, many economic players fear supply shortages in the coming weeks. We are offering solutions."
China is Switzerland's most important trading partner after the EU and the US. Currently, the majority of rail freight volumes between the two countries runs via large German hubs such as Duisburg and Hamburg. Austria, Hungary and Ukraine have emerged as hubs for Eastern European countries. However, these connections feature relatively long lead times, making rail freight to and from China a less competitive option. With the new Switzerland – China link, this is about to change.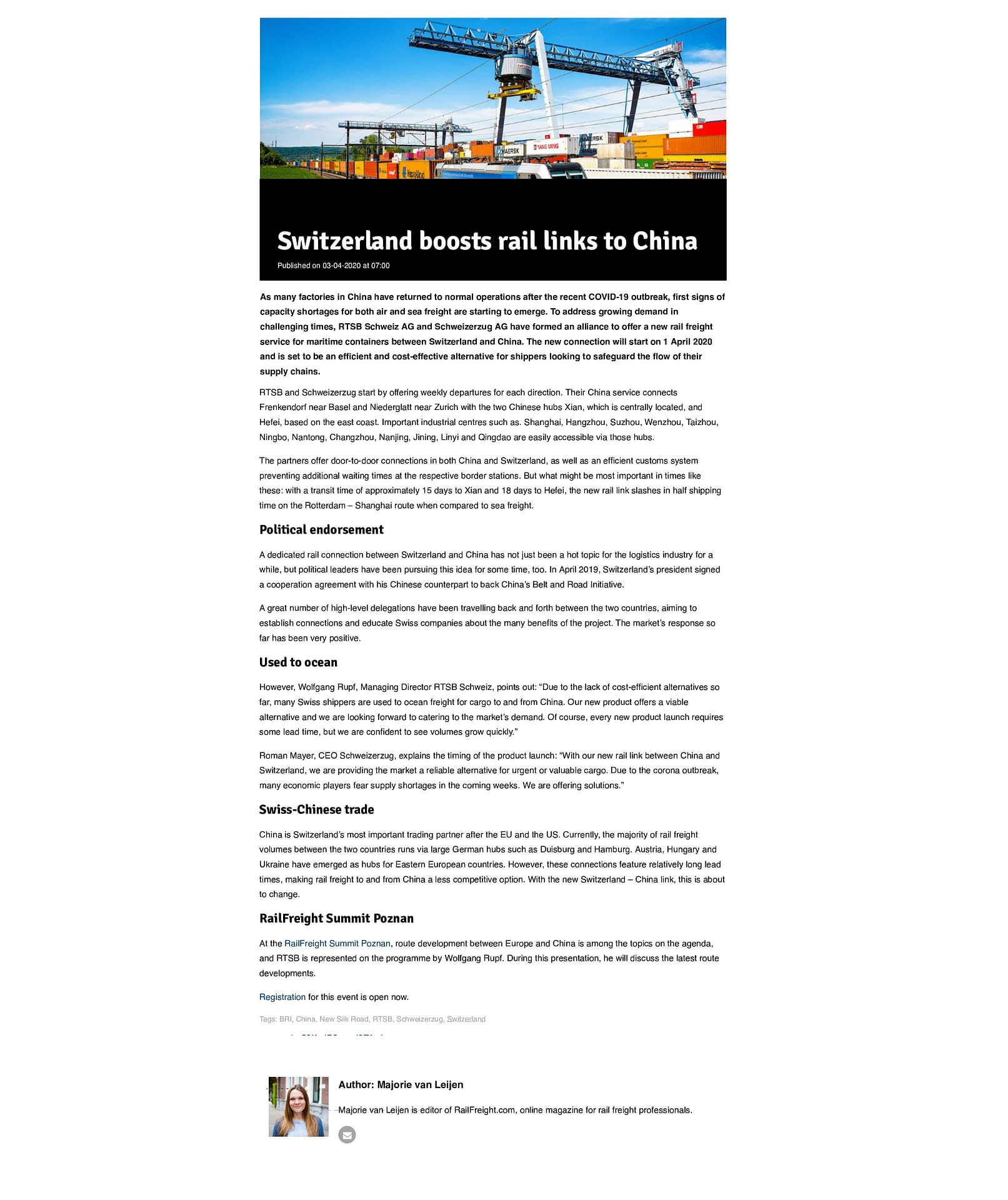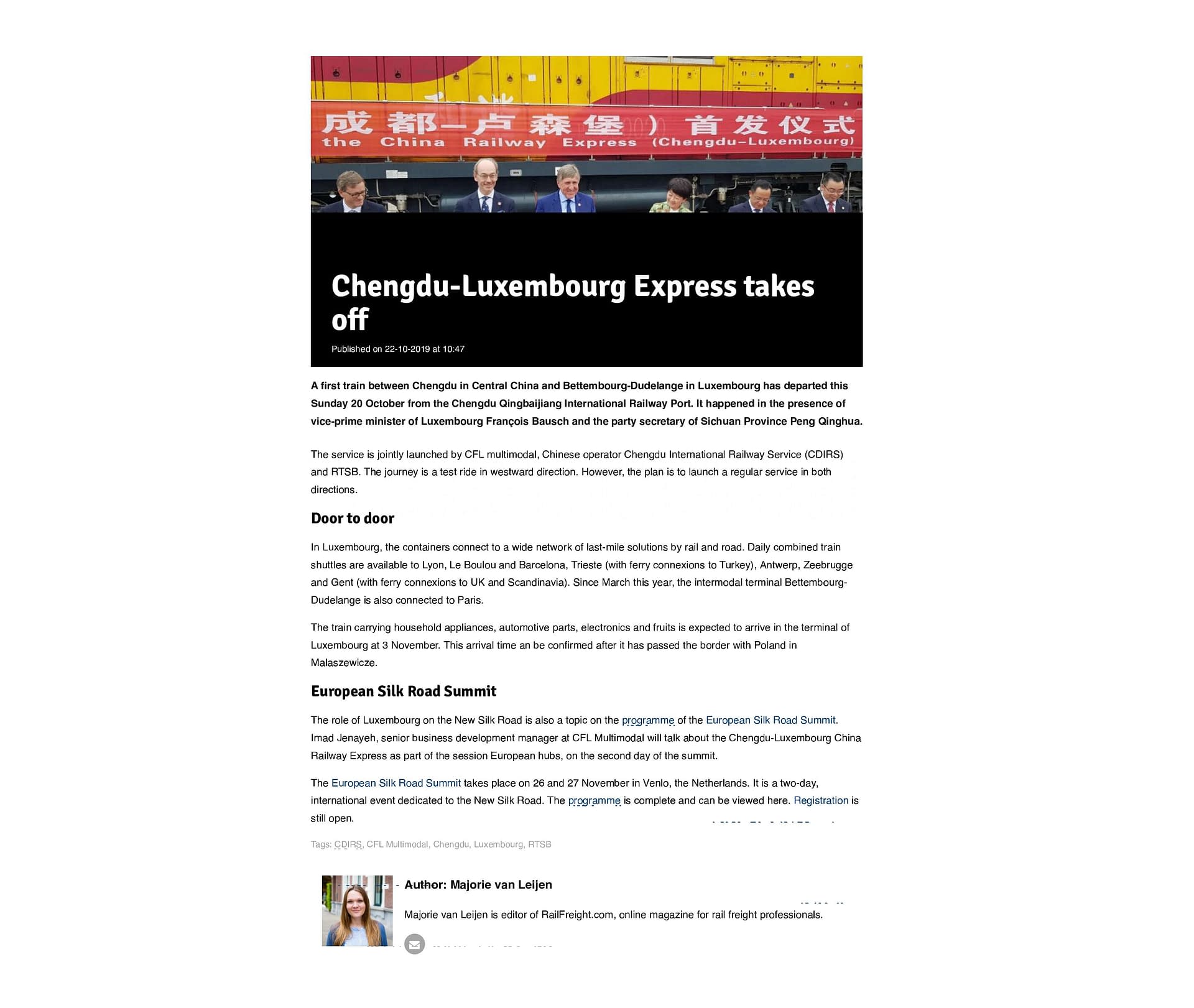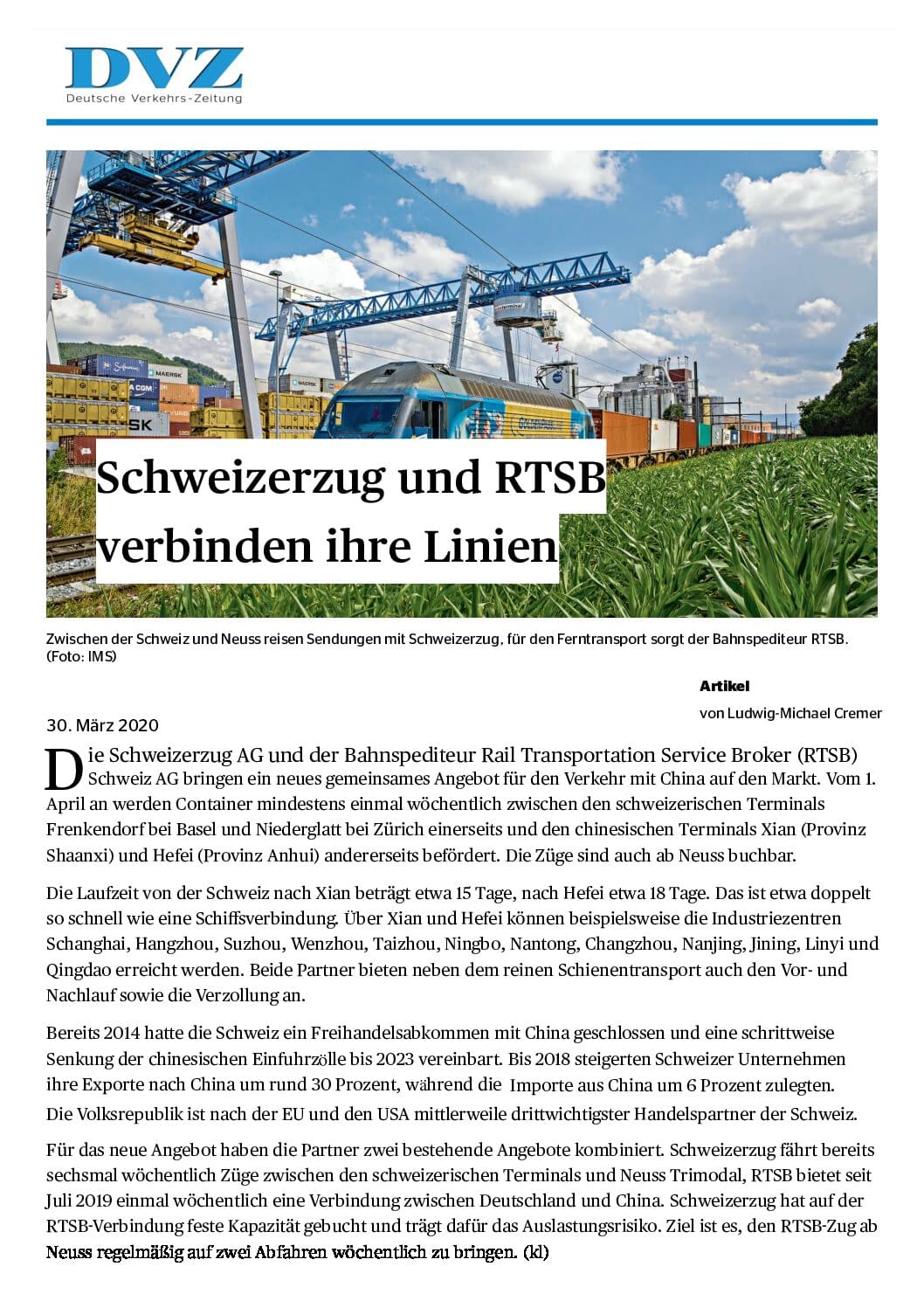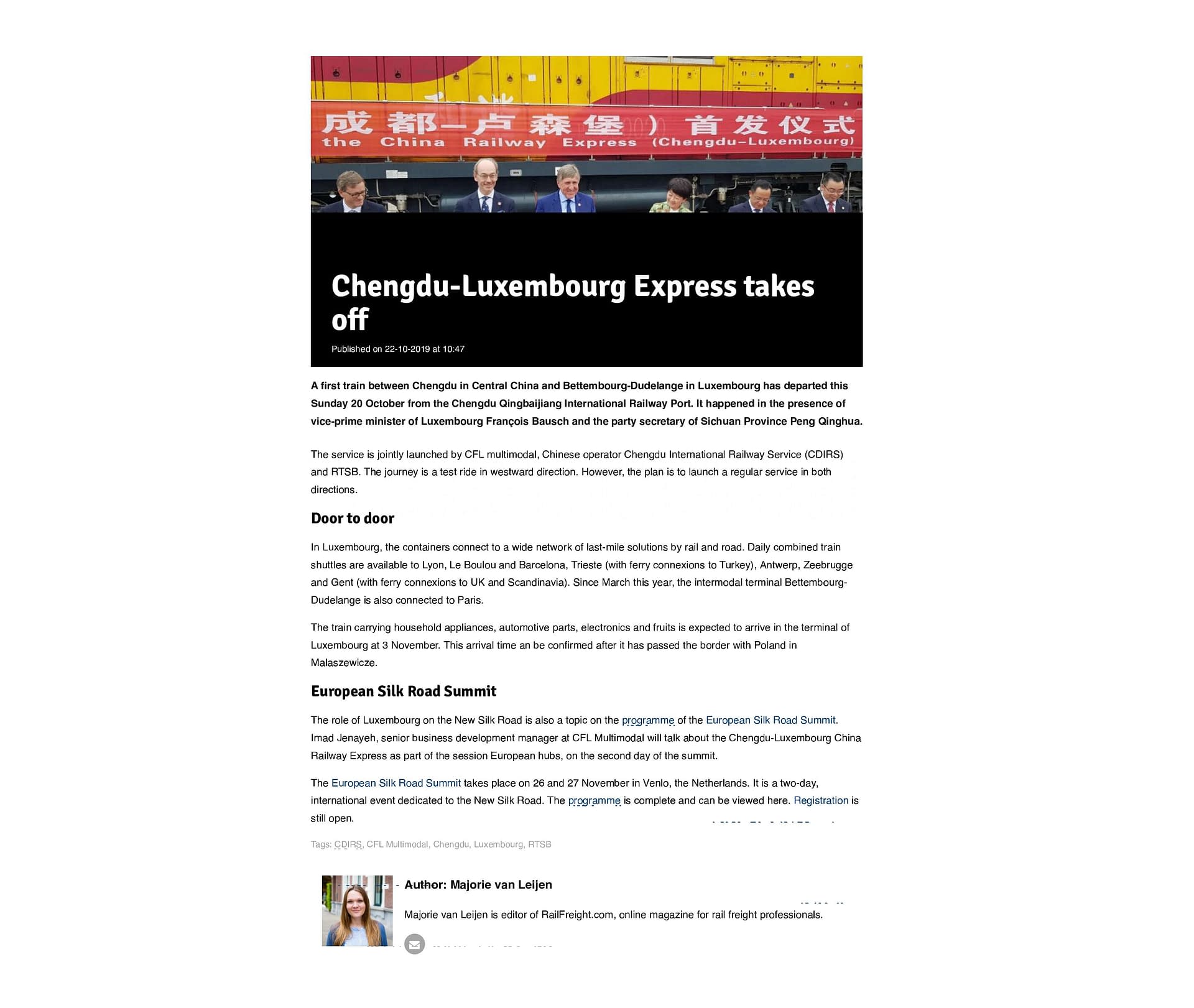 The 14th China International Logistics and Supply Chain Fair
Shenzhen, China
10.-12.10.2019

RTSB Group will exhibit at the "The 14th China International Logistics and Supply Chain Fair" in Shenzhen, China. As a professional, effective, reliable and wide exchange platform for all players in logistics, transport and relevant industries all over the world, the CILF attracts numerous international well-known firms to exhibit and further promotes the international influence of China's logistics industry.
We sincerely invite you to visit us at:
Hall B · Booth no. B1302-B1306
October 10 – 12, 2019 • Shenzhen Convention & Exhibition Center

RTSB Group is a leading Intermodal operator along the OBOR route with over 20 years of transportation experience. Our skillful team, extensive network and flexible logistic solutions together with unique web-based system "MyTransOffice" build up RTSB Group – a growing Company operating 18 branches in 13 countries along the Eurasian corridor. Headquartered is in Frankfurt, we sustain German quality throughout all the services we provide: block train operations, freight forwarding, project logistics, trucking and IT-solutions.
Event Calendar 2021
See you there!
WESTERN CHINA INTERNATIONAL LOGISTICS INDUSTRYY EXPO
APRIL 09-11, 2021
TRANSPORT & LOGISTICS EXPO
MAY 04-07, 2021
CILF 2021
SEPTEMBER 23-25, 2021 
16th International Logistics and Transportation Fair
INTERNATIONAL SUPPLY CHAIN & SMART LOGISTICS EXPO
OCTOBER 28-30, 2021